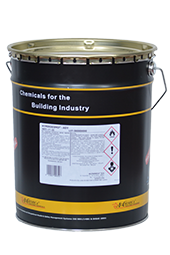 Single component, Single coat, on a single day. Based on Humidity Activated Accelerator Technology (H.A.A).
Waterproofing is no easy business; we battle with nature and its phenomena. First comes the rain, and in some places of the world it seems like it never stops. Then in the winter it is frost and in the summer it is UV l ight and heat. Moreover, as if all this was not enough, we also have to battle time and we need to endure it. When it is traffic properties that are needed, with a Shore A Hardness of 100, HYPERDESMO®-ADY 810 will literally let you walk all over it.
It is a fully aliphatic, one component, polyurethane liquid membrane designed for use as a top coat for traffic deck coating system.

System's Build up steps:

1. Primer (please contact technical department for primer selection)
2. Main waterproofing coating: HYPERDESMO® CLASSIC
3. Top coat : HYPERDESMO®-ADY 810
Alternatively it may also be used in a single layer application acting simultaneously as main membrane and top coat.

HYPERDESMO® - ADY 810 is moisture curing, but due to its curing mechanism will provide a bubble and defect free membrane. It has excellent adhesion to HYPERDESMO CLASSIC, outstanding abrasion and scratch resistance, chemical and hydrolysis resistance. The UV resistance is excellent and the color stability is secure whatever the color.
HYPERDESMO®-ADY 810 is self levelling, with a good viscosity profile over a large temperature range that will cure to form a bubble free membrane that is recommended to be applied in only one coat.
Consumption: 0,5-1 Kg/m2 depending on what silica broadcast method is used.
TDS Hyperdesmo-ady_810_-_v2.2, PDF, 136.35kBDOWNLOAD NOW